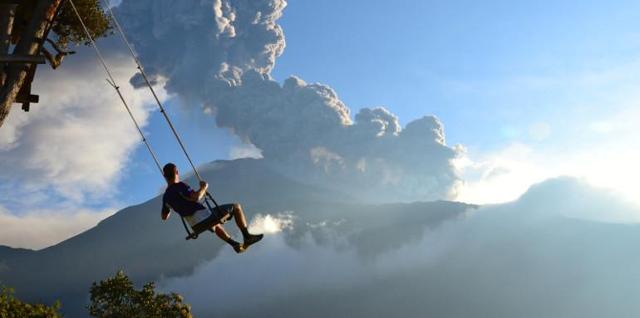 Lateral Range Most Suited To Swing Trading
At the confluence of fundamental and technical factors, for now and until further notice, Nvidia Corp. (NASDAQ:NVDA) is a swing trader's stock. Evidence of the entry of the stock into a lateral range most suited to swing trading was the biggest one day fall in its history on February 23, 2017, of more than $10, which placed a punctuation point on a dramatic rise.
It would now be advisable that new long entries only be made with a swing strategy to trade this consolidation range as Nvidia tops. The existing holdings of long-term investors will be constrained within the limits of range-bound swings, with the range continuing for potentially many months. This is not the time to enter new long term buy-and-hold positions.
After the topping range, a substantial downward correction awaits. This will occur as the negative factors bearing on share price are predicted to gain sway over positive influences. As the heart of this correction has not yet begun, the stock has not priced in the developing opportunity for a medium term short. It is only after the coming downward correction has completed that long-term holders should consider new long entries.
Parameters Of The Channel
Nvidia's meteoric rise from $19.09 in July 2015 produced a high in February 2017 of $120.92, and in so doing established a reference point for the location of the upper channel line of the lateral consolidation range. If we take that to be approximately $126.00 when including proportional allowance for the setting of intermittent new highs as the channel evolves, then we also see that the lower channel line may lie at approximately $90.00 when taking into account historical support levels. This produces a maximal channel amplitude of approximately $36.00.
By extension, and to find swing trading efficiency by fading the upper and lower limits, a projected trading range of $25.00 should be more alpha-generative when setting profit targets.
Consequently, the metrics for this trading range are a long price target of $117.25, with a time frame of three to six months for an expected gain of $19.00 per share, representing a 19.3% return on yesterday's close of $98.56.
An Anticipated Sizeable Downturn
Current long-term holders of Nvidia may choose to exit near the upper range limit to obtain maximal return on their present holding and to avoid the anticipated sizeable downturn.
The projection of the width of a price channel before its full formation is inevitably an exercise in approximation. The price levels cited here are for general reference purposes only, and should not be treated as hard numbers. As the channel evolves, its upper and lower limits may be somewhat wider or narrower in actuality.
Relevant to full consideration of the future prospects for Nvidia's share price, see also Seeking Alpha:
Fundamental And Technical Considerations At Play
What are the fundamental and technical considerations which have brought share price into temporary, cyclical equilibrium after the last 18 months of outstanding gains?
Among the array of factors weighing on stock price and halting its rise are weakening markets for both PCs and add-in graphics boards, and shadows over the Chinese market due to a developing trade dispute between that country and the U.S. With China being the world's largest market for both semiconductors overall and for graphics cards in particular, this is a key concern for Nvidia.
Additionally, burgeoning competition is being felt from Advanced Micro Devices Inc. (NYSE:AMD) and Intel Corp. (NASDAQ:INTC). Nvidia has already ceded 10% of its discrete GPU market share to AMD as a consequence of switching more focus to platforms for machine learning and self-driving automobiles.
Competition In Deep Learning And AI Grows
Also, competition in deep learning and AI markets is growing exponentially. AMD has announced Radeon Instinct GPU accelerators for machine learning systems, scheduled to ship in 1H17. Radeon Instinct is expected to outgun Nvidia's P100 Tesla GPU. Applications will be in self-driving autos, nano-robots, high-end computing, manufacturing, cloud control, healthcare and financial services, among other sectors.
Further, AMD's Radeon FirePro server GPUs are finding new high-end data center customers, as exemplified by the recent Alphabet Inc. (NASDAQ:GOOG) (NASDAQ:GOOGL) supply agreement. Intel's first AI processor, Lake Crest, is due in 1H17. Its second, Knights Crest, will follow in train.
Countervailing negative factors pressing on Nvidia's share price, there are demonstrable positives buoying the stock. The result for the present is a lateral consolidation range.
Shift In Machine Learning To GPU Architecture
Nvidia is enjoying the benefit of a general shift in machine learning to GPU architecture. In this vein, the company has announced with Microsoft Corporation (NASDAQ:MSFT) and Ingrasys, a Foxconn subsidiary, plans for HGX-1, a hyperscale GPU accelerator for cloud computing and AI. Nvidia has aspirations for HGX-1 to become an industry standard for cloud-based AI processing.
HGX-1 brings 8 Nvidia Tesla P100 GPUs on each chassis, and uses Nvidia NVLink interconnect technology, facilitating CPU connections to an unlimited number of GPUs. This pairing of P100 with Nvidia NVLink has been the main driver of Nvidia's highly successful penetration of the GPU accelerator market in hyper-scale data centers.
Another consideration in placing the stock in a positive light in the minds of some investors, analysts' estimates for Nvidia have risen of late, representing another buoyancy factor for share price.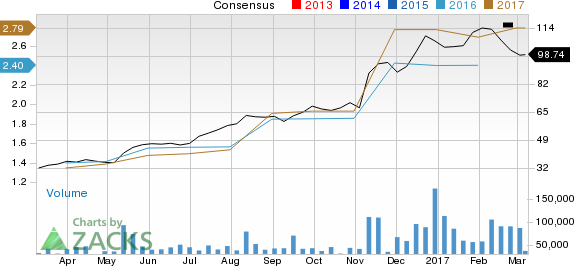 Reasons For The Abrupt Fall
Why then did price fall so abruptly? The high concentration of selling volume on just the one day of February 23 at 39.5 million shares, approximately 2.5 times the daily average, points to technical trading factors being the cause. Technical considerations contributing to the stock's dramatic fall of 20.7% in the span of just 14 days include stacking or the formulaic subsequent adding of further short positions after initial entry, in fully automated trading programs.
Many proprietary programs place greater emphasis on the stacking of down moves than of up moves, and stacking rapidly escalates the magnitude of a change in price. Also, the vast majority of algorithmic trades deal with high volume order placement.
The pervasive use of automated trading systems among institutional traders, with the speed of execution they bring, has the effect of compressing time frames when major trigger points are reached.
A Suddenly Increased Trading Volume
When other market participants factor in a suddenly increased trading volume within a short time frame, this may further augment the magnitude of a move. The combined result of automated trading systems can therefore be said to be self-compounding.
Spoofing and the affect of dark pools are thought to have added to the rapidity with which Nvidia's price fell. Sharks may have discovered the existence of large iceberged orders, prompting a pile-on affect.
As to high frequency trading, it has been variously estimated that in excess of 70% of U.S. stock trades are undertaken as a result of HFT. At key technical trigger points as here with the Nvidia sell-off, when being responsible for such a high proportion of total trades, HFT can add to the force of a move initiated by automated trading programs operating on longer time frames.
Conclusion
After its marked fall, the share price has entered a period of topping consolidation, and the stock should now be traded with a swing trading strategy, taking profit near the upper channel line.
Existing long-term holders may consider taking advantage of the new highs of the lateral range to exit before price ultimately retraces downward in a far more substantial way. At this time, Nvidia will provide a profitable opportunity for a short. That anticipated correction is not yet priced in.
Elsewhere on Seeking Alpha:
Follow this author and receive immediate alerts upon publication of future articles by this author, please click on the "Follow" button at the top of this page next to the author's name and icon, and then select "Real Time Alerts".
Disclosure:I/we have no positions in any stocks mentioned, and no plans to initiate any positions within the next 72 hours.
I wrote this article myself, and it expresses my own opinions. I am not receiving compensation for it (other than from Seeking Alpha). I have no business relationship with any company whose stock is mentioned in this article.